To perform directed range of motion exercises stretch in the intended direction until you feel a small stretch and slowly return to your starting position. Do this several times, and each time, you should be able to move a little bit further. Perform the movement 5 times in one direction, then repeat moving the other way. Range of motion should slowly increase with each repetition. Discontinue if this causes you pain.
Directed range of motion exercises begin with slow and deliberate movements in one simple direction, stopping as soon as you feel any pain, tightening, or discomfort. At that point, you will slowly return to a neutral position facing forward, and then gently repeat the movement several times in one direction, each time extending the range by just a few limited and comfortable degrees. By the third or fourth repetition, you will notice that the range increases on its own with hardly any effort on your part. After five to seven repetitions in one direction, you will repeat the procedure in the opposite direction. For example, if you have just completed five neck rotations to the right, you'll then do five gentle neck rotations to the left, again stopping at neutral after each repetition. The rotation series is then completed with five repetitions turning fully and comfortably from right to left without stopping. Slow and gentle movements can and will restore proper joint function.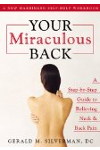 Continue Learning about Types Of Exercise


Exercise provides many health benefits - from fitness to increased physical and mental energy. In order to prepare yourself for a exercise routine, you need to research which exercise is right for you and how to fit a new exercise ...
e program into your daily schedule.
More