This question will depend on what you classify to be hard and easy. A good rule of thumb would be to not complete hard workouts back to back days. If you are training 4-5 days a week then be sure to have an even split. You could complete 2 hard workouts and 2 easy workouts. Again, your body needs rest and completing 3 hard workouts back to back days may lead to injury and this would result in longer require rest. Read your body and push within your limits, you are your own personal coach so treat them well and they will return the favor.
Don't work hard on consecutive days, unless you have a cross-training routine. The "hard/easy" rule has by now been carved in metaphorical stone of the training canon. It takes time for the body to recover from a hard workout, and for most of us, 48 hours is the minimum. And bear in mind that as we age, it can take even longer than 48 hours. A hard day should be followed by a lighter workout, an "easy" day. If you're cross-training, though, you may have more flexibility. A "legs" day -- running or cycling for example -- can be followed by an "arms" day -- swimming. This cross-training routine allows you to exercise more intensely, more often, while still respecting the hard/easy rule.
You may find you're much more active on weekends than you are on weekdays; most of us probably are because we save the yard work, the family outings, and maybe even much of the shopping for the weekends. But don't try to do a week's worth of activity over the weekend. "Cramming" doesn't work. During a week of relative inactivity, your body becomes accustomed to being sedentary, making it harder for your system to be more active during the weekends. Abrupt and radical changes of activity patterns can increase the risk of injury and even the risk of heart attack. And the metabolism tends to slow with lack of activity, making it much more likely that what you eat on any given day during a week of relative inactivity will be stored around your midsection. Thus it's much more helpful to be active regularly throughout the week, with the hard workouts spaced out and easy days between them.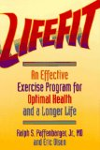 Continue Learning about Types Of Exercise


Exercise provides many health benefits - from fitness to increased physical and mental energy. In order to prepare yourself for a exercise routine, you need to research which exercise is right for you and how to fit a new exercise ...
e program into your daily schedule.
More