One easy way to increase the overall activity in your life is to use the 10,000 step method. In this method, which originated in Japan, you monitor the activity you do during a day, making you conscious of the number of steps you take. Then you try to increase your activity and number of steps. You need a pedometer, which you can buy in most sporting goods stores; some are even given away at workplaces.

Wear the pedometer when you go out the door in the morning, and keep it on as you do your usual activities. When you go to bed at night, take it off and record the number of steps you took. Do this for a week. I think you will be surprised to learn how much or how little you actually travel in one day using your own two feet.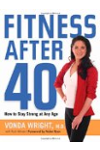 More About this Book
Fitness After 40: How to Stay Strong at Any Age
It's one of the undeniable facts of life. After we reach a certain age, our bodies change. No matter how fit we may have been at 20, we're very different people after 40. But growing older doesn't...
A great way to make sure you fit enough activity into each day is to plan ahead! Make a list of your favorite types of exercise activities and then schedule your daily pick on your calendar. Everything counts as long as you are moving! You can also wear a pedometer, which tracks the number of steps you take. Try to aim for 10,000 steps per day. If a pedometer is not your thing, join a gym, walk your dog, dust off those roller blades, fire up the vacuum cleaner, rake the leaves, dance to the radio- no matter what your preference, just plan to keep moving!
It is important to plan ahead and schedule physical activity into your day. Some enjoy being physically active in the morning, whereas some prefer the afternoon or evening. Devise a plan that works best for you. After a few weeks, this new routine will become second nature.
Keep in mind, according to the most current public health guidelines on physical activity, the 2008 Physical Activity Guidelines for Americans, for health benefits, adults should accumulate 2 hours and 30 minutes (150 minutes) of moderate-intensity aerobic activity (i.e., brisk walking) every week or 1 hour and 15 minutes (75 minutes) of vigorous-intensity aerobic activity (i.e., jogging or running) every week or an equivalent mix of moderate- and vigorous-intensity aerobic activity.
I feel that scheduling time for yourself is one of the best ways to making sure that you fit in enough activity in your life. In our society we tend to get caught up in our day to day lives. We forget about ourselves. It is not unreasonable to put aside 1 hour a day just for you. And I don't mean that you should be constantly working out everyday for an hour. But use that hour to do something for yourself. You may want to workout 3 or 4 days and just go for a walk on the other days. But asking for 1 hour a day, just to make you feel better and de-stress from everyday life, would probably do more for increasing your overall health. Pick a time that will be beneficial to you and commit to that hour everyday. This time is just for you. And make sure that your family knows that this is your time. And explain to them that you need this and that they will have to survive without you so that you can work on yourself.
If scheduling or making time for your fitness is not working, often out of sight/out of mind may play a role in you're not getting enough activity in your day. Put your fitness equipment or fitness center in plain sight.
For example if you belong to a fitness center, be sure to pass by it either before or after your work day, or when you're out doing errands (keep a set workout clothes in your car or backpack). You are more likely to stop in to get a workout.
If you work out at home, put your fitness equipment (such as dumbbells, stability ball, walking shoes, exercise equipment) in your house traffic areas so you will have to walk by it (don't trip over it). Again if you see it, you're more likely to use it.
Remember keeping in sight or seeing your available fitness options will influence your daily activities and increase your chances of achieving you fitness goals.
I am a big fan of either wearing a pedometer or the Exerspy by dotFIT. Exercise and nutrition comes down to motivation and if you are motivated you will be more likely to exercise and eat well regularly. Activity is no different. Having a pedometer or Exerspy to monitor steps being taken is a great way to stay motivated.
You set a goal (i.e. 10,000 steps per day) and you monitor it throughout the day like you would calories consumed. Then if you have an overall active day you have the peace of mind to know you did enough activity for that day. However if the day is progressing and you notice you have not been active enough it gives you the motivation and direction to get up and get moving until you reach your step total for the day.
Continue Learning about Types Of Exercise