The importance of proper hydration cannot be stressed enough. The body cannot adapt to dehydration, which impairs every physiologic function. Guidelines for fluid replacement during exercise are as follows:
● Consume 14 to 22 ounces (1.75 to 2.75 cups) of fluid 2 hours before exercise.
● Drink 6 to 12 ounces of fluid for every 15 to 20 minutes of exercise.
● Fluids should be cold because of more rapid gastric emptying.
● If exercise exceeds 60 minutes, use of a sports drink (containing up to 8% carbohydrate) can replace both fluid and dwindling muscle glycogen stores.
● When exercising for less than 60 minutes, water is the experts' choice for fluid replacement.
● The goal is to replace sweat and urine losses.
● Ingest 16 to 24 ounces of fluid for every pound of body weight lost after an exercise bout, especially if rapid rehydration is necessary, as in twice-a-day training.
During exercise, sweat should be replaced by fluid intake of 6 -- 12 ounces every 20 minutes. Begin drinking early during your exercise; it is better to prevent dehydration than play catch-up. This is easier said than done when you are focusing on exercise or a race. It is not uncommon for us to become so dehydrated that we lose 2 -- 3 kilograms of body weight during a race from water loss alone.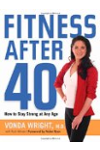 More About this Book
Fitness After 40: How to Stay Strong at Any Age
It's one of the undeniable facts of life. After we reach a certain age, our bodies change. No matter how fit we may have been at 20, we're very different people after 40. But growing older doesn't...
Continue Learning about Types Of Exercise


Exercise provides many health benefits - from fitness to increased physical and mental energy. In order to prepare yourself for a exercise routine, you need to research which exercise is right for you and how to fit a new exercise ...
e program into your daily schedule.
More