One thing I wanted to mention as well is if you meet with a fitness professional and they do not ask you if you have at least met with a doctor dont just turn away, run the other way.
This does not mean that you have to meet with a doctor but a fitness professional should at least ask if you have met with a doctor or encourage you to do so if you are just beginning and exercise program.
All qualified fitness professionals are taught to only be trainers and not practice outside their scope so it is incredibly important for a fitness professional for their potential client to have met with a doctor to know they are cleared for activity or what limitations may exist. Same holds true for someone who is currently injured or coming off an injury, the fitness professional should request information from the doctor or therapist so they can properly guide you through exercise.
Be very leary of a fitness professional if they at least do not ask if you have seen a physician before meeting with them.
Yes is it recommended to see the doctor before you exercise regimen. However, most well-established health and fitness facilities have a system in place where any new member, regardless of their fitness level, must go through a serious of subjective and objective questionnaires. Fitness assessments also are available to collect important data about your actual fitness level. All these systems are there to help you start your fitness program safely.
Consulting with your physician prior to any exercise program will be very beneficial. If you are over the age of 50 then this recommendation is even stronger. Regardless, we should all see our physicians for a yearly physical. If you are not doing this, then please start, it will only lead to improving your overall health.
If you are just beginning to exercise, read the seven questions listed below. This is a simple checklist, designed by the Canadian Society for Exercise Physiology, to determine whether or not you need to check with your doctor to receive medical clearance to exercise. When in doubt, however, always see your doctor.



1. Has your doctor ever said that you have a heart condition and that you should do only physical activity recommended by a doctor?

2. Do you feel pain in your chest when you do physical exercise?

3. In the past month, have you had chest pain when you were not doing exercise?

4. Do you lose your balance because of dizziness, or do you ever lose consciousness?

5. Do you have a bone or joint problem that could be made worse by a change in your physical activity?

6. Is your doctor currently prescribing drugs for your blood pressure or heart condition?

7. Do you know of any other reason why you should not do physical activity?



If you answered no to all seven questions, you can be reasonably sure that you can start becoming more physically active if you start slowly and build up gradually. You could also participate in a community fitness appraisal to determine your basic fitness level. Many community health centers, YMCAs, or gyms bring in medical personnel to perform these health overviews. Be aware that if you answered no to all of the questions because you have not been to the doctor in years, then now is the time to get checked out.



If you answered yes to one or more of the above questions, you should talk to your doctor by phone or in person before starting to increase your activity. You may still be able to do any activity you want by starting slowly and increasing gradually. However, your doctor will have the opportunity to discuss the activities you'd like to participate in. In addition, the American Heart Association recommends that anyone with known heart disease see his doctor prior to beginning an exercise program.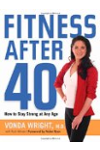 More About this Book
Fitness After 40: How to Stay Strong at Any Age
It's one of the undeniable facts of life. After we reach a certain age, our bodies change. No matter how fit we may have been at 20, we're very different people after 40. But growing older doesn't...
Continue Learning about Types Of Exercise


Exercise provides many health benefits - from fitness to increased physical and mental energy. In order to prepare yourself for a exercise routine, you need to research which exercise is right for you and how to fit a new exercise ...
e program into your daily schedule.
More