Yes, this exercise can also be performed while side-lying. To do the side-lying arm-waves exercise lie on your side with your arm abducted and flexed 90 degrees at the elbow. Your forearm and back of the hand should be flat on the floor. Your knees should also be bent approximately 90 degrees, but here, comfort is key. Using this as your starting position, contract your stomach and slowly rotate your upper arm internally, towards your feet, bringing your hand into the air. Go as far as you can without restriction and then return to your starting position. Perform this movement for the desired amount of repetitions. You may be able to add a small 2-5lb weight as you get stronger.
The arm-waves exercise (an exercise that helps restore normal range of motion to the shoulder joint) for internal rotation modified to side-lying is a good alternative if your shoulders are very tight and you cannot get adequate leverage when lying on your back. Lie down on your right side with your right arm on the floor resting 90 degrees from your body and your elbow bent at 90 degrees so your hand points up toward the ceiling. With your left hand, slowly and gently help your right hand rotate forward, down to the floor. Stop once you feel the stretch in the back of your shoulder. Hold for 30-60 seconds and return to the starting position.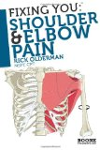 Continue Learning about Types Of Exercise


Exercise provides many health benefits - from fitness to increased physical and mental energy. In order to prepare yourself for a exercise routine, you need to research which exercise is right for you and how to fit a new exercise ...
e program into your daily schedule.
More