Research shows that regular aerobic exercise can:
Improve your memory and other skills, such as attention, processing speed and executive control, which matter to daily intellectual performance.
Significantly decrease your risk for dementia.
Significantly reduce your risk for or be an important part of managing medical conditions that in turn increase your risk for dementia, such as obesity, diabetes, and hypertension.
Start today on the road to better brain health by boosting your exercise time. Get at least 30 minutes of exercise several days a week. Even brisk walking has been proven to be beneficial to brain health. Make it easier to stick with your exercise plan by penciling in time to work out, finding an exercise buddy, or setting clear exercise goals with built-in rewards.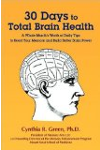 More About this Book
30 Days to Total Brain Health®
Get ready to make the move to better brain health! In this remarkably effective, scientifically-grounded plan, Dr. Cynthia Green, a clinical psychologist and one of the country's most notable experts...
Continue Learning about Types Of Exercise


Exercise provides many health benefits - from fitness to increased physical and mental energy. In order to prepare yourself for a exercise routine, you need to research which exercise is right for you and how to fit a new exercise ...
e program into your daily schedule.
More