There are quite a few studies that show a surprising number of benefits to supershort workouts. In one study, sixteen young men, all of whom were moderately active, were randomized into two groups. Over a period of fourteen days, the first group rode a stationary bike for a total of six sessions that lasted between 90 and 120 minutes each. The second group rode the bike at an all-out effort for just thirty seconds at a time, resting or cycling very lightly for four minutes between intervals. They also worked out for a total of six sessions, working their way from four intervals per session to six -- meaning that their total workout time came to a grand total of about fifteen minutes over two weeks.

Was there a benefit? You bet. Before and after their sprint training period, the study's participants took an exercise endurance test. After sprint training, their endurance doubled, meaning that they were able to exercise at a high intensity for twice as long.

This study is small and looked only at college-aged men, so it's too early to draw definitive conclusions about the benefits of very short but very intense workouts for all of us. But it should give hope to anyone who can't exercise for longer periods of time.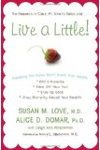 Continue Learning about Types Of Exercise


Exercise provides many health benefits - from fitness to increased physical and mental energy. In order to prepare yourself for a exercise routine, you need to research which exercise is right for you and how to fit a new exercise ...
e program into your daily schedule.
More