Lipids are, in essence, fats. There are many, but three in particular cross our radar: LDL and HDL Cholesterol and Triglycerides. Triglycerides are blood fats. Your doc will check your level with a blood draw once per year. Your target is less than 150. If they are too high the risks include coronary artery disease. That can net you a complication called atherosclerosis, a.k.a. hardening of the arteries (more about that in a second), which in turn leads you to a stroke or heart attack.

LDL builds up plaque on the walls of the blood vessels, which can fill up a vessel to the point that it is occluded, or totally blocked. The blood cells get stuck, can't get through, and they clot. And clots cause most heart attacks.

HDL scrubs out the plaque and keeps your blood vessels sparkly clean and free of occlusions.

Within limits, the ideal is to have your LDL low and your HDL high. For men with diabetes it is universally agreed that your HDL should be above 40 and for women above 50.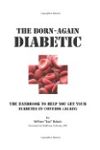 Continue Learning about Diabetes Type 2