Millions of Americans are increasingly getting diagnosed as insulin insensitive or resistant, a prelude to diabetes as well as a key sign that the body's energy equations are out of balance. Here's the short story on how it happens: If you overconsume refined or poor quality carbs, your glucose level will rise sharply, but soon fall back quickly. (Note: Other issues could also be at play, such as deficiencies of necessary nutrients; not enough chromium, for example, can inhibit insulin absorption.)

When this happens, you experience a true energy low. At the same time, you usually experience a craving for more carbohydrates to bring your blood sugar back up, which will offset the general feeling of malaise characterized by shakiness, fatigue, brain fog, and dizziness that go with low blood sugar or hypoglycemia. Habitual energy imbalances like this set off a repetitive pattern of quick rises and drops in blood sugar levels, which can challenge your pancreas and liver. Both of these organs manage insulin -- our body's chief energy hormone, which gets released from the pancreas upon eating and escorts glucose out of the blood and into the tissues. As you can imagine, when this pattern repeats itself over time, your whole body's energy metabolism can begin to falter, and soon enough you might find yourself in a prediabetic state on the road to diabetes. The good news about gaining control over this chaos is that it can be as simple as gaining control of your diet and related lifestyle risk factors like excess weight and smoking.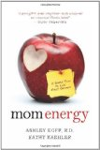 More About this Book
Mom Energy: A Simple Plan to Live Fully Charged
       From celebrated dietitian Ashley Koff and fitness trainer to the stars Kathy Kaehler comes Mom Energy, an exciting new way for moms to tap into their own natural and renewable sources of...
Continue Learning about Diabetes Type 2