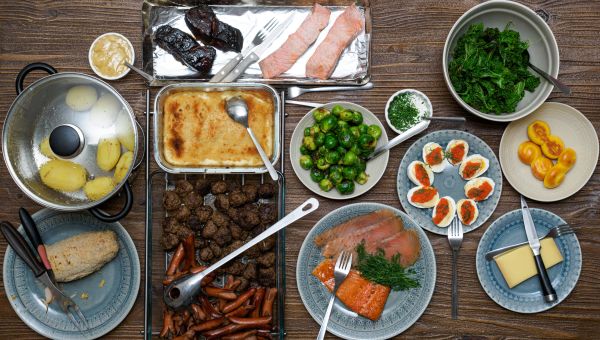 The weeks between Thanksgiving and New Year are full of holiday parties, decadent foods (pumpkin cheesecake! Aunt Lou's oyster stuffing!) and, yes, stress – all of which can spell trouble if you have diabetes or prediabetes. But it's possible to have a great time this season and stay healthy, too. These five tips for surviving the holidays will take you all the way into January (and beyond).
1. Stress less. Managing your stress is one of the best things you can do for your health this holiday season – especially if you have diabetes. According to Ronald Tamler, MD, clinical director of the Mount Sinai Diabetes Center, elevated stress levels can cause sharp spikes in blood sugar levels. The American Diabetes Association echoes this and adds that excessive stress can cause negative emotions, keep you from thinking clearly (which can translate into forgetting to check your blood sugar) and lead to bad food choices. Check out this video from endocrinologist Reza Yavari, MD, for smart ways to reduce your stress.
2. Don't skip meals. We know you just wanted to hold off on lunch because of the early family dinner you planned. But skipping meals can wreak havoc on your blood sugar. According to the American Diabetes Association, skipping meals makes it much harder to keep blood glucose levels in check throughout the day. And arriving hungry at a holiday get-together makes it that much easier to overeat. So be smart: If you know you will be going to a party and don't want to spoil your appetite, have a healthy snack to tide you over. It will help stabilize your blood pressure and keep you full – so you're less likely to overindulge on all the not-so-healthy stuff later.
3. Navigate the buffet. Just because there's a buffet style dinner set up doesn't mean you should feel obligated to eat some of everything. Try to fill your plate with low-glycemic veggies and a serving of lean protein like turkey or chicken without the skin. Save that last small portion for something more indulgent like bread or pasta with cream sauce. You could also impress the host by bringing a blood-sugar friendly version of your favorite dish. Watch chef Michel Nischan make this healthy take on decadent berry pie.
4. Stay off the couch. We've all seen the look: that sleepy-eyed gaze as you head for the sofa after a big, satisfying meal at mom's house. But all that couch time – which comes with not only full bellies but also cooler temps – can cause problems for your blood sugar and your waistline. Sharecare expert Bob Greene says being active is crucial for people with diabetes, especially during the holidays. That's because exercise lowers blood sugar and improves insulin sensitivity, helps prevent or delay the onset of type 2 diabetes and delays neuropathy, a condition common in people with diabetes that's characterized by tingling or numbness in certain areas. Having a hard time finding the motivation to get moving when it gets chilly? Try starting up a backyard football game.
5. Go easy on the alcohol. Just like with so many other tasty things, the key to imbibing during the holidays is moderation. You don't have to completely abstain from all the festive, sparkly cocktails at parties or beers during the football game – but try to limit your alcohol to but you do have to be mindful of how much you consume. The American Diabetes Association recommends one drink per day if you're a woman, two if you're a man. For diabetes-friendly versions of your favorite drinks, stick to diet sodas, sugar-free juices or carbonated water as mixers.
Medically reviewed in April 2019.