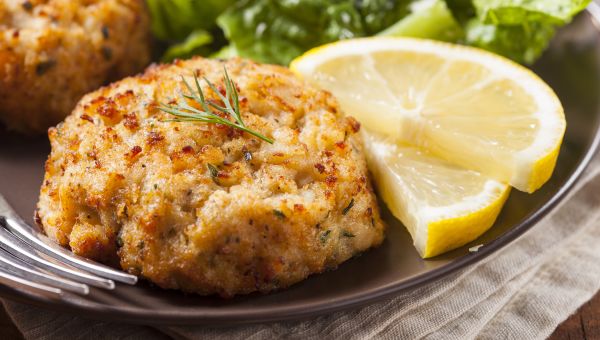 Ingredients
1 lb lump crabmeat, picked over to remove any cartilage and shells
3 tbsp light mayonnaise (such as Hellmann's Light)
3 tbsp dry breadcrumbs
2 tbsp Dijon mustard
3 tbsp minced scallions
1 tbsp minced parsley
1 tsp Old Bay seasoning
1/4 tsp crushed red pepper flakes
1 egg
3 tbsp all-purpose flour
1 tbsp canola oil
Preparation
Serves: 7
Serving Size: 1 crab cake
Preparation Time: 10 minutes
Cook Time: 16 minutes
Combine all ingredients except the flour and canola oil in a large bowl and mix well. Shape the mixture into 7 crab cakes and set on a plate. Cover and refrigerate for 30 minutes to set.
Heat the canola oil in a large 12-inch skillet (preferably cast iron) over medium heat. Dredge each crab cake with flour to lightly coat both sides. Add the cakes to the skillet and cook for about 4-5 minutes per side. Drain on paper towels.
Exchanges/Choices:
1/2 Carbohydrate
2 Lean Meat
1/2 Fat
Nutrition Facts (per serving)
Calories 135; calories from fat 55; total fat 6.0g; saturated fat 0.9g; trans fat 0g; cholesterol 120mg; sodium 470mg; total carbohydrate 6g; dietary fiber 0g; sugars 1g; protein 14g
Medically reviewed in October 2018.