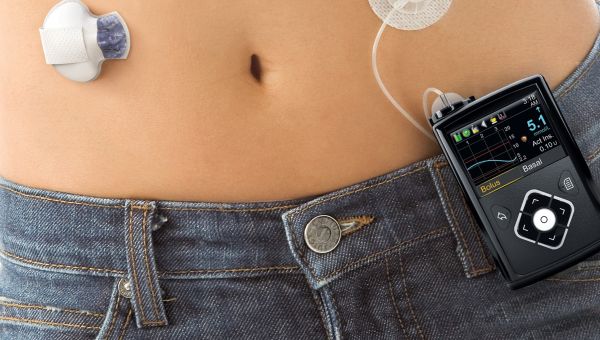 Groundbreaking device keeps blood sugar stable—even in your sleep.
People with type 1 diabetes may now be able to worry less about irritating blood sugar checks and unpredictable symptoms. A new "artificial pancreas" has just been approved by the Food and Drug Administration (FDA) and is expected to hit markets by Spring 2017.
The device, called the Medtronic MiniMed 670G, acts just like a pancreas by monitoring and adjusting your blood sugar. The MiniMed releases a constant, controlled amount of insulin around the clock, called a "basal dose," to keep your blood sugar stable—even when you sleep. If it detects a spike in your blood sugar, it'll bring it down by releasing extra insulin. On the other hand, if you have a sudden dip in blood sugar, it'll stop releasing insulin until you can eat a snack that will bring it back up.
What is type 1 diabetes?
If you have type 1 diabetes, your pancreas doesn't produce enough—or any—of the hormone insulin. Normally, the pancreas releases insulin after you eat. Insulin then helps to move the sugars that come from food into your cells. Once inside your cells, sugar gives your organs and tissues energy to function properly. Without insulin, sugar builds up in your blood and can lead to serious effects like nerve damage and stroke.
This breakthrough will change the lives of people with type 1 diabetes by taking on the role of a healthy pancreas. You'll still have to tell the MiniMed how many carbohydrates you're going to eat by punching in a number before meals. But gone are the days of constant finger pricks, squinting to read your insulin syringes and random, possibly life-threatening blood sugar spikes.
Is the MiniMed for everyone?
This "artificial pancreas" was tested and approved for people over 14 years old. However, clinical trials are underway for children as well.
In the adult clinical trial, people had:
To find out if you're eligible for this device, make an appointment with your diabetes doctor. You can also learn about clinical trials that are underway by visiting the FDA's website.
Medically reviewed in February 2019.