What we love most about yoga is the delightfully meditative deep relaxation at the end, wherein participants lie stretched out on the ground -- all of their limbs and muscles relaxed -- and concentrate on their breathing. You can skip the sweating and the trembling and just go straight to the relaxing. Stretch out on your back and concentrate on your inhalations and exhalations. Watch your chest rise as you inhale. When you exhale, imagine all of your limbs going limp. Bliss! Allowing yourself to slip into deep relaxation can ease your breathing problems and any other pain you happen to be experiencing.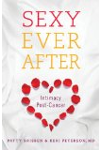 More About this Book
Sexy Ever After: Intimacy Post-Cancer
Recent studies show that 40-100 percent of men and women who have been treated for cancer have experienced some level of sexual dysfunction. Sexy Ever After: Intimacy Post-Cancer will help you...
Continue Learning about Treatment Of Breathing Disorders