A traveler loses control over food choices by restaurant availability, by being restricted to what is on a menu, and by the inability to prepare the food. A traveler cannot control traffic, weather, or airport delays. While inflight try to limit your alcohol consumption but do drink lots of water and other liquids. It's also a good idea to get up and walk every two hours if you are flying on a very long trip. Also, many airlines have video exercises you can practice while sitting - check them out on the video menus.
There are actually a lot of options for you to workout when you travel. The best and easiest way to workout is using your own body weight to exercise. Running, lunges, push-ups and crunches are quick easy way to get a workout in. However most locations do have a workout facility to use and they usually have the basics to get at least a full body workout. Another option is bringing with you is resistance tubing. These are small and compact that can travel with you and you can get a great full body workout in.
Staying fit when you travel can be a challenge, but a little pre-planning can help you stay on top of your fitness. A good way to help you stay fit on the road is to look for hotels with fitness centers. This will give you easy access to exercise equipment and will usually include at least a treadmill where you can engage in cardiovascular exercise. If you are staying somewhere without a fitness center call ahead to find out if there is anyplace nearby to walk. A local trail or even the mall can be a great place to stretch your legs – just remember to take necessary precautions for your safety in an unfamiliar area. You can also engage in exercise right in your room. Exercise videos are a great way to stay in shape and can easily be packed in your luggage. Resistance bands and a yoga mat are also items you might want to consider packing for in-room exercise. Traveling does not mean you have to put your exercise program on hold as long as you plan ahead!
Maintain is the key word. Start by staying in a hotel that has a gym, pool or fitness classes. Keep it simple and maintain your fitness level don't look to increase it while away. Start in your room; get on the floor and do 3-5 core/pilates exercises first , then go to the gym and use the cardio equipment for 20-30 minutes. Dont' go to the gym everyday, go for a 30 minute walk at a brisk pace on some days to change it up and to benefit from your travels and soak in the local culture. Movement is good for the body, mind and spirit, try not to think of your workout as another task...just a part of your day that makes you feel good!
When traveling, do those small extra things, like using stairs, walking tours, etc. to keep yourself active. For more regular workouts, try to find hotels that have gyms or gyms in the area with day passes or membership agreements with a home gym. Your body weight and a set of exercise tubing (elastic bands) can go a long way too, cost little and don't add much weight or space to your bags.
A traveler loses control over food choices by restaurant availability, by being restricted to what is on a menu, and by the inability to prepare the food. A traveler cannot control traffic, weather, or airport delays. A traveler is as likely to arrive much later than expected as to arrive on time. In addition, each time a time zone is passed; it becomes more and more difficult to get enough sleep. It is not unusual for a traveler to be too emotionally or physically drained to even think about exercise. In the airport terminal a traveler must maneuver through a minefield of giant cinnamon buns, colossal muffins, and small doughnuts packing a huge saturated fat explosion. If traveling by car, the choices are usually grease, grease, and more grease.
What can you control if you travel? You can control your snacks by pre-packing unsalted nuts, raw vegetables, fresh fruit, dried fruit, cereal, pretzels, or hard-boiled eggs, just to name a few. Trade your soda and juices for water. Water is not only healthier but it will help you stay hydrated, especially when flying. Go topless (and I don't mean take your shirt off) by avoiding harmful condiments that add calories. Instead of mayo, go for mustard. Top a salad with a light or fat-free dressing. Order your food baked, grilled or broiled instead of fried, and stick to turkey, chicken, and fish. Do not eat bread unless you can get whole-wheat or whole-grain. If you hit the coffee shop, order tea or coffee (tall, non-fat, and no whip), and avoid muffins large enough to feed a family of four, or anything named "mocha caramel" or "frappuccino."
If you don't have time or don't feel like exercising at least stretch after you shower and perform a few body-weight exercises to relieve your back from a long day of sitting and to regain circulation in your legs. This should help you sleep better.
In addition, if you are going to cross time zones and can sleep while traveling, by all means, do so. It would also be wise to take a nap the day after you arrive, to help you catch up on your zzzz's.
I travel extensively during my season and stay in many different hotels and realize staying fit can be a challenge. Here are a couple of suggestions for staying fit while on the road:
1.When you check in ask the front desk about a workout room and if they do not have one see if they have courtesy passes to a nearby gym.
2. Get in the pool!! Most hotels these days have a pool or you can gain access to a nearby pool by asking the front desk. Start by walking in the shallow end of the pool and progress to running. You can also complete a great lower body workout by completing walking lunges and step ups in the pool.
3. Bring a thera-band and a workout video with you!! Thera-band is lightweight and can be stored in your suitcase without adding any extra weight.
4. Body Weight exercises. One can perform walking lunges, wall squats, push-ups etc in the comfort of their own hotel room.
5. Get to know your surroundings by taking a brisk walk. This is a great way to find out what's nearby (shopping/restaurants).
6.If all else fails walk the stairs!
There are lots of options. Try taking up running. It is an activity that you can do pretty much anywhere. When you book a hotel, try to find one with a well-stocked fitness center. This is becoming increasingly popular as major hotel chains realize the importance of business travelers staying on their exercise programs. Admittedly, there tends to be an abundance of cardio equipment, but most still have to furnish acceptable resistance training machines. You can also inquire if the hotel has a fitness facility nearby. Some have arrangements that allow them to offer free or discounted day use passes to nearby major gym chains. Another growing trend is the ability to order up workout tools to your room. You can always bring your own stuff such as tubing in different resistance levels and fitness DVDs that allow you to challenge yourself using the bands and your bodyweight. Most hotels also have pools, so give swimming a try. Get creative and make a conscious effort to seek out some activity while travelling. Lastly, be sure to watch the restaurant meals. A couple of days of eating rich or fast food meals can sabotage your best efforts.
Calisthenics or body weight exercises are great for travelers. Simple exercises like push ups, sit ups, squats, dips and lunges are great. You can also do resistance exercises with a resistance elastic band. Most hotels have gyms nowadays. Choose activities like sightseeing by bike or walking everywhere. Jogging and swimming are also good activities and most decent hotels also have a pool. Staying active is the key word when traveling.
One of the best ways to stay fit when traveling is to bring a medium size resistance band. This is the most portable piece of equipment that will keep your muscles strong, and your core tight. You can get a full body workout working all three phases of fitness which includes your stabilization, strength, and power. I use these wherever I go so I never miss a workout.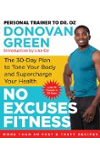 More About this Book
No Excuses Fitness: The 30-Day Plan to Tone Your Body and Supercharge Your Health
"Donovan Green proves that motivation and inspiration improves his clients' lives inside and outside of the gym. Donovan's own life story is the greatest example of how being motivated and driven makes what once seemed impossible a reality."--Joe Scarborough, NBC News Senior Political Analyst and host, Morning JoeDr. Oz's personal trainer, Donovan Green, delivers a 30-day fitness program focusing on exercise, diet, and attitude, forged from his experience training thousands of clients ranging from celebrities to regular folks.Between his positive, can-do spirit and practical, brass tacks strategies for getting in shape, it's no wonder that Donovan Green has reached 3.7 million daily viewers via his unique No Excuses platform on DrOz.com. With No Excuses Fitness, Green delivers a comprehensive month-long plan designed to help readers lose 10 pounds in 30 days. Filled with healthy recipes, workouts that can be done anywhere and with minimal equipment, and daily tips for staying focused (especially through plateaus), and featuring a foreword by Dr. Oz's wife Lisa, No Excuses Fitness will inspire and guide anyone interested in losing weight and gaining optimal health.
Continue Learning about Travelling & Exercise