According to Ayurveda, the six tastes are: sweet, salty, sour (three tastes that are popular in our culture), bitter, pungent, and astringent (three tastes which we in the west seem to avoid). From an Ayurvedic perspective, eating excess amounts of sweet, sour and salty foods causes the accumulation of kapha, which is directly linked to obesity, diabetes, cardiovascular disease, free radical damage and some cancers, to name a few.

Kapha is a principle in nature made up of the elements earth and water, with heavy, congestive and sticky qualities. Foods prevalent in Western diets such as sweets, chips and pickles (sweet, salty, and sour tastes) have these heavy kapha properties that can create congestion and stagnation in the body, often leading to disorders like obesity, diabetes and heart disease. Interestingly, the bitter taste found in leafy greens, the pungent taste found in ginger and spices, and the astringent taste found in cucumbers and pomegranates all counterbalance these kapha conditions.
Ayurvedic cooking involves six tastes, which are used to prepare a balanced dish. Include all the tastes in your day to make your diet divine and healing: sweet, sour, salty, bitter, pungent, and astringent.
Here are some examples of each of the six tastes:
Sweet: Almonds, sugar, milk, rice, wheat, large beans
Salty: Salt, seaweed, salted snacks
Sour: Lemon, yogurt, cheese, tomatoes, sour fruits, pickled fruits, tamarind
Pungent: Ginger, mustard, clove, hot spices, radish, chilies, garlic
Astringent: Beans, lentils, pomegranate, unripe bananas, apples, cabbage, potatoes, cranberries
Bitter: Green tea, green leafy veggies, endive, tonic water, fenugreek, rhubarb, turmeric, chocolate
Each taste has a balancing ability, and including some of each provides complete nutrition, minimizes cravings, and balances the appetite and digestion.
This content originally appeared on
doctoroz.com
Continue Learning about Traditional Medicine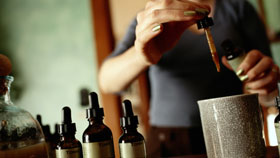 Traditional healing methods range from ginger tea for a cold to an entire medical systems -- such as traditional Chinese and Ayurvedic medicine.