Ayurveda is the traditional medical system of India and the oldest surviving healing system in the world (about 5,000 years old). "Ayu" means life and "veda" means knowledge, so ayurveda is the science of life. Ayurveda is based on 3 fundamental principles:

1. Food is medicine.
2. Disease can be prevented and eradicated through your daily habits.
3. Lifestyle recommendations are based on an individual's physical, mental and emotional makeup, known as one's dosha.
Continue Learning about Traditional Medicine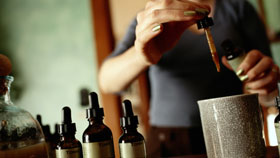 Traditional healing methods range from ginger tea for a cold to an entire medical systems -- such as traditional Chinese and Ayurvedic medicine.