The three main areas for the raw silk glove massage (or gharshana) are the arms, abdomen and legs. For the arms, begin with circles on the shoulder and proceed down the upper arm with back and forth strokes covering all surfaces. Make circles on the elbow and then back and forth strokes on the forearm. Resume making circles on the wrist. On the hand, make back and forth movements emphasizing the spaces between each finger. Repeat the same sequence on the other arm.

For the stomach, you start with a clockwise motion first, which supports the natural direction of digestion. Then massage the abdomen using horizontal strokes with hands moving in opposite directions. Next, use up and down strokes on the sides of the torso.

The last area is the legs. Using circular strokes, massage the buttocks and hips. Move back and forth on the thigh using both hands and covering all surfaces. Use circular strokes on the knee using both hands. Return to the back and forth strokes on the lower leg using both hands. Then use circular strokes on the ankles. The feet require back and forth strokes. Emphasize the sole of the foot and the spaces between each toe. Repeat on the other side.

Raw silk gloves are easily found online for about $20. You can do the raw silk massage daily and it doesn't require any massage oil. You can also have the massage done at an ayurvedic spa.
Continue Learning about Traditional Medicine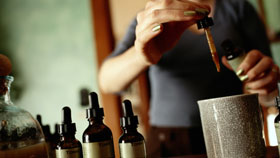 Traditional healing methods range from ginger tea for a cold to an entire medical systems -- such as traditional Chinese and Ayurvedic medicine.