Does Ayurveda help treat osteoarthritis (OA)?
Ayurveda associates osteoarthritis with an imbalance of the Vata dosha, which is concerned with issues related to movement and elimination. The home of Vata energy rests in the large intestine, and when toxic matter builds up in the large intestine as a result of improper elimination, the body suffers from poor blood circulation and dryness. This Vata imbalance triggers a complementary reduction in the moist, supportive qualities of Kapha energy. The absence of this moisture leads to a decreased nourishment to the cartilage and dry, painful joints are the result.
When treating osteoarthritis, it is the intention of an Ayurvedic healer to bring the excessive Vata energy back into balance. This is done by building the patient's digestive strength and regulating his or her elimination cycle. Patients are taught to favor denser, moisturizing foods like lentils, cooked vegetables, and ghee to build up the strengthening properties of Kapha energy and to lubricate the joints. Other supplemental treatments include massage with mahanaraya oil and mild forms of exercise. Ayurvedic herbs used to treat osteoarthritis include triphala, trikatu, and guggul.
Continue Learning about Traditional Medicine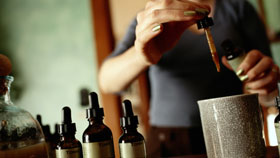 Traditional healing methods range from ginger tea for a cold to an entire medical systems -- such as traditional Chinese and Ayurvedic medicine.