Mouthwashes can be used for a variety of reasons, including:
reduce plaque (a thin film of bacteria that forms on teeth)
prevent or reduce gingivitis (an early stage of gum disease)
reduce the speed that tartar (hardened plaque) forms on the teeth or to produce a combination of these effects.
Keeping plaque off of teeth can help prevent cavities and protect teeth. Your dentist can advise you whether you need a mouthwash and what kind of mouthwash to use depending on your oral health needs.
Any mouthwash that contains fluoride can protect and restore enamel if it has been damaged by early tooth decay. If the decay becomes slightly deeper, fluoride rinses will not help and treatment from the dentist is required. Cavities usually do not cause sensitivity until they begin to become deep, so examination by the dentist at least twice a year is important to maintain dental health.
Continue Learning about Tooth Enamel Erosion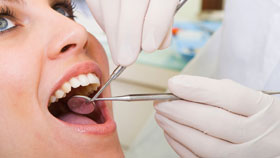 Tooth enamel erosion stems from contact between the tooth surface and acids in the diet in such foods and beverages as soda, wine and citrus fruits. Good oral hygiene, fluoride rinses and regular visits to the dentist can help min...
imize damage from acid erosion.
More