Vinegar turns up in lots of places -- salad dressings, sauces, potato chips, pickles. And each one could spell trouble for tooth enamel. In a study, teenagers who frequently consumed vinegar-containing foods had a 30%-85% increased risk of enamel erosion compared with teens who didn't consume those foods.
Continue Learning about Tooth Enamel Erosion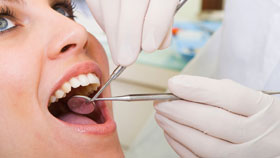 Tooth enamel erosion stems from contact between the tooth surface and acids in the diet in such foods and beverages as soda, wine and citrus fruits. Good oral hygiene, fluoride rinses and regular visits to the dentist can help min...
imize damage from acid erosion.
More