Besides titillating a spouse or tipping you off that the haberneros are too hot, your tongue gives you lots of clues about your health.

Pound for pound, the tongue is our strongest muscle. Your tongue actually looks a lot like your intestines and provides a great insight into how your body is responding to the outside world and the food you are eating. Traditional Chinese medicine uses the tongue for most diagnoses, so take a look at yours. Fissures are naturally present in 5 percent of people so don't sweat them.

Poor dental hygiene leads to large papilla bumps that look like small hairs, thus the name hairy tongue. Drug reactions (including to herbs) will cause blisters and ulcers. Strawberry tongue happens in toxic shock syndrome. Hypothyroid people have very fat tongues, and people with pernicious anemia have beefy red tongues.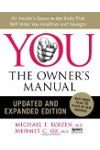 Your tongue can give some important clues about your health, your lifestyle habits, and your diet. For example, if the normal projections on the tongue (villi) appear hairy, this may be the result of taking antibiotics or using a mouthwash with peroxide too frequently. Sometimes having a fever can cause the tongue's villi to look hairy. If you are a smoker, your tongue's villi may become discolored. You can remove this discoloration by scraping the tongue and rinsing your mouth. The tongue may appear smooth and pale if you have iron deficiency anemia. A deficiency in vitamin B3 may cause the tongue to become swollen, red, and painful. Scarlet fever can turn a normal tongue a bright raspberry color. Thrush, a common fungal infection, can leave a white film on the tongue's villi and cause a painful burning sensation.
Continue Learning about Healthy Tongue