I encourage you to nurture and develop your relationships with your child's doctors as much as possible. Your child's pediatrician and other health care providers are the people you should trust most with the health and well-being of your children. Without a full picture of the overall physical, emotional, and social health of your child, your doctor won't be able give your child the best care possible.

In fact, sticking with the same doctor can help keep your child out of the hospital. One study found that children who bounce from physician to physician are 60% more likely to seek emergency room care, and 54% more likely to be hospitalized. Having a long-term cooperative relationship with their child's doctor help parents gain a better understanding of their family's health issues, and instead of heading to the hospital, they're more willing to wait for an office visit.

The relationship between a doctor and patient, however, can be tricky and is not always perfect. Perhaps there's a clash in personalities or some other conflict that makes visits to your child's pediatrician uncomfortable or difficult.
Believe me, it's no fun for your doctor either when the relationship just doesn't seem to "click." That's why it's so important that you search for that doctor who's a good fit for you and your family. It will make it more likely that you will seek out medical care for your child when needed, which means your child will live a healthier life. That's exactly what doctors want most.

From Good Kids, Bad Habits: The RealAge Guide to Raising Healthy Children by Jennifer Trachtenberg.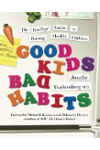 Continue Learning about Talking To Your Doctor