Be honest about your medical history. Your doctors can act only on what you tell them. If you are not completely honest with medical professionals, they will not have all the information they need to treat you properly. Be sure to inform them of all the symptoms you're having, no matter how minor or silly they might seem. Also remind them of all current prescription medications, even if they prescribed them, as well as over-the-counter drugs and supplements. Doctors who don't have all the facts will find it difficult to diagnose and treat you properly.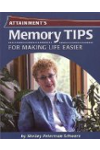 More About this Book
Memory Tips Making Life Easier
Written by memory and aging expert Shelley Peterman Schwarz, Memory Tips for Making Life Easier delivers just what its title promises. Written for health care professionals, family caregivers, and...
Tell your doctor everything. We often overlook the need for better doctor-patient communication. So be sure to ask the right questions and bring whatever it is that's been bothering you to the attention of your physician—especially if it's out of the ordinary: the number of times you needed to use the bathroom, those pesky pounds you can't get rid of, that achy pain in your right calf for which you popped a few too many aspirin, or those headaches that have been plaguing you all week. Keep a list of questions and concerns in your smartphone or notepad so you don't forget. It's better to overdo it than underdo it.
Even though your doctor may not be able to address every issue during your appointment, he or she will at least be aware of important issues to address—including issues that may save your life.
This content originally appeared on
doctoroz.com
Continue Learning about Talking To Your Doctor