The dietary term assigned to someone who is not allowed to eat or drink anything, including ice chips, is NPO. Where did the term NPO come from? Well, "per os" is Latin for "by mouth" and "N" stands for "nil" which you know means "nothing." Thus, NPO means nothing by mouth, no exceptions. Some doctors will order: "NPO except for ice chips and medications." Or they'll order "clear liquids," which typically consists of water, Jell-O, ginger ale, and Italian ice. Don't cheat. Diet orders are written for a reason. If you're unclear why you're assigned a certain diet, simply ask.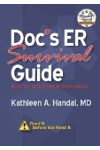 More About this Book
Doc's ER Survival Guide (DocHandal's Guides)
Few people get through life without at least one trip to the emergency room (ER), either as a patient or support person for a family member or friend. Doc's ER Survival Guide is designed to help...
Continue Learning about Talking To Your Doctor