Whether it's your first visit with that physician or you've been seeing them for decades, one way to save time (and that means saving money) is to have everything that could possibly be useful either in your hand or in the file cabinet in the doctor's back office. Use this list to make sure you're all set.
Do I have my filled-out health profile to take to the appointment, including my family health history?
What questions do I have for the doctor about my health profile? Write these down.
What other documents or items do I need to bring to the appointment (such as X-rays, pathology reports, or other medical records)?
Do I need any other records that other physicians have (such as prior medical records) sent to the doctor's office?
Do I have all of my insurance information handy?
In addition to my written medication list, do I have the actual bottles and containers of every single prescription medication, over-the-counter drug, herbal supplement, vitamin, and anything else I take regularly bundled neatly to bring to the appointment?
Who do I want to come with me to the appointment?
Do I need to do anything special (such as fast for 12 hours for a blood glucose test) before the appointment?
Do I have my tape recorder with a blank tape and fresh batteries?
Which specific questions do I want answered at this appointment? Write these down.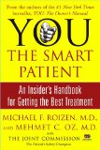 Continue Learning about Talking To Your Doctor