You can avoid feeling rushed in the doctor's office by being prepared, and by communicating clearly with your doctor. Most doctors will welcome patients who are active in their health care. A doctor's time is limited: the average office visit is estimated to last 15 minutes. If you are prepared, you will save time and enable yourself to better obtain necessary health information. If you are not prepared, you may forget to ask key questions.
It is also important to be organized. Bring a list of specific questions with you, and carry an updated medical history and medication form.
Communication is critical; it's important to provide your doctor with specific, accurate information. If you don't understand something because the information is being explained in technical medical terms, politely ask your doctor to explain it in simpler terms, perhaps with an analogy that will make it easier to understand. Be an active and empowered patient and collaborate with your doctor. Be respectful of each other and, most importantly, do not be afraid to ask questions. You should never feel intimidated by your doctor. If you need something repeated, it is okay to ask. It is very important that you are comfortable with your doctor, and that the doctor/patient relationship is valued by both.
Also, it is always a great idea to bring a trusted friend or family member with you. They can help you decipher the information and can take notes during the visit. You can also ask your doctor if it is okay to record the conversation. This will make it easier for you to have all the necessary information.
If you have a lot to discuss during a particular visit, tell the office receptionist so he or she can help. You might also consider asking if you can book two segments. You will probably have to pay for both, depending on your doctor (and your health insurer might not cover the second appointment, depending on your insurance company), but some patients occasionally do this in special circumstances when they really don't want to risk feeling rushed.

A tip: Befriend the office nurses and the administrators. They can make your life very pleasant and convenient in dealing with your doctor, so show them love at every visit. Learn their names, their hometowns. Bring small gifts. Have your child draw a picture for them. It'll pay dividends.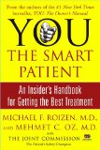 Continue Learning about Talking To Your Doctor