It is best to inform and prepare your child for any visit to the doctor. Reassure your child by explaining the purpose of the visit, whether it is for a routine checkup or to help treat an illness. Helping your child understand what parts of the physical exam may be performed can also ease any fears about the visit. Gathering and sharing information such as any immunization records and test results with the physician would also be beneficial.
You know what happens. After sitting in the waiting room, the nurse calls your child's name and brings you back into an examination room where you sit and wait (again) for the doctor to arrive. You've had plenty of time to think about what you want to express to the doctor, possibly making a mental list of points to cover, but as soon as the doctor steps in the door, your thoughts go out the window and you forget what you wanted to say.

Perhaps you're worried about your child or you're stressed you won't make it back to your office for that important meeting, or it could be that doctors make you nervous or uncomfortable.

Whatever the case, there's a simple solution. Keep a notebook. Use it to jot down any questions you may have before your child's appointment so you don't forget them. Bring it with you to the doctor's office and take notes so you can remember what was said during the appointment. Then, shelve or file at home and refer to it as needed. It's a super convenient way to track your child's healthcare over time. I also encourage parents to bring snacks, drinks, and even toys and books with them to keep their child entertained so they can focus on our discussion.

One additional point to remember: Most doctors' schedules are very tight. If you have a lengthy list of questions to ask or points to discuss, be sure to tell your doctor ahead of time. You may need to schedule a follow-up appointment with the doctor, or you might be able to discuss your questions with a physician's assistant or nurse instead. Your doctor (and his other waiting patients) will greatly appreciate it.

From Good Kids, Bad Habits: The RealAge Guide to Raising Healthy Children by Jennifer Trachtenberg.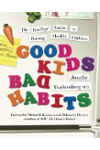 Continue Learning about Talking To Your Doctor