Comfort level, like trust, is a highly subjective perception. You need a doctor whom you can relax with, have good vibes about, and who treats you with respect. Your doctor should seem interested in you as a person, not just your disease or symptoms.
A doctor's manner is as important as his answers to your questions. Could you confide sensitive information to him? Part of your comfort level comes from your trust in his skills and knowledge. The other part comes from your sense of how nurturing this person is. If you aren't comfortable talking to your doctor, you'll be less than honest about issues that need real attention.
You may have to decide what is more important to you - the doctor who went to the top medical school or the doctor with the best bedside manner. Just don't err on the side of falling for a great personality with nothing between the ears.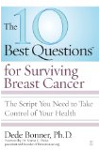 Continue Learning about Talking To Your Doctor