There are many questions you need to ask whenever you receive a medical diagnosis. However, when that diagnosis is life-threatening or extremely serious, it brings other considerations to bear. Asking the additional questions below will give you the info you need to mobilize a health care team to fight a serious illness and to make some tough decisions that could bring peace later on:
How is this illness likely to affect me? What kind of effect will it have on my family?
What kind of decisions may I have to make as my illness progresses? What can I do to prepare for those decisions?
What kinds of symptoms am I likely to experience in the future?
What are the best and worst outcomes I can hope for or prepare for as I face this illness? Remember to ask about experimental and in-development treatments; the answer to this question could change tomorrow.
If my disease is terminal, what is the longest and shortest amount of time I can expect to continue to live? Take either answer with a grain (or a wheelbarrow) of salt, by the way. A study of doctors' predictions has shown that we are often off, sometimes by years. Sometimes by decades.
Will you promise to speak openly and honestly with me, and others whom I choose, about my illness, prognosis, and treatment alternatives?
If I become unable to participate in my care or speak for myself, how will decisions be made for my care?
If I designate a proxy, are there any specific decisions my proxy should be prepared to make in dealing with this illness?
Will you help my family and me locate other resources such as spiritual support, social workers, or hospice care, if I need them?
If I choose hospice care in the future, will you continue to care for me?
If I am in a nursing home, assisted living facility, or at home, will you or someone you recommend make house calls to see me?
What can I do now to help prepare to fight or manage my disease? What resources can you suggest that I explore?
If an emergency arises, whom should we call?
If I decide that I do not want to be resuscitated, how can I ensure that my wishes are carried out?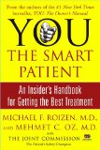 Continue Learning about Talking To Your Doctor