Thyroid-stimulating hormone (TSH) is a chemical produced by the pituitary gland at the base of your brain. TSH goes through your bloodstream to the thyroid gland in your neck, to tell the gland to make thyroid hormones. Thyroid hormones are primarily responsible for regulating metabolism (the chemical processes) in your body.

Overproduction of thyroid hormones is called hyperthyroidism, and underproduction is called hypothyroidism. The TSH blood test is a valuable screening test if you are experiencing certain metabolism-related symptoms. See your healthcare professional if you have any new or abnormal symptoms you are concerned about.
TSH stands for thyroid stimulating hormone. It is the blood test doctors order most often to check if the thyroid gland is working normally. Doctors also order this test to make sure that people taking thyroid pills are taking the best dose.

Thyroid stimulating hormone is made by the pituitary gland in the brain and is released into the blood stream. When TSH reaches the thyroid gland, it stimulates the gland to produce more thyroid hormone.

When the blood level of thyroid hormone drops below normal, the TSH level rises. When there is too much thyroid hormone, the TSH level gets very low. So, an abnormally high TSH level almost always indicates an underactive thyroid gland (hypothyroidism). A very low TSH level usually means there is too much thyroid hormone in the blood (hyperthyroidism).

There are some rare causes of an underactive thyroid gland with a low TSH. For example, if a person has a diseased pituitary gland.

Experts don't always agree on the normal range for TSH. The reports from most laboratories show a normal range of 0.45 to 4.5. However, many thyroid experts use a normal range to 0.3 to 3.0.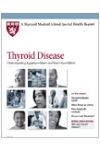 Continue Learning about Thyroid Supplement