Before you begin, obtain the following: a fresh piece of regular fruit, a fresh piece of organic fruit, a slice of whole wheat bread, a piece of unfrozen fish, a piece of red meat, and a piece of pork. Perform your standard warm-up.
1.Silently form your intent to scan and compare the cleanliness and energetic potencies of these foods.
2.Put the piece of regular fruit on the table. Keep the others away from the table. Scan the fruit from several angles, and note the depth and strength of its energy aura. After you scan a few times, slowly sweep away some of the energy into your scanning hand, and feel it in your hand. Roll it between your fingers. You may have a sensation like a light vibration or a feeling of lightness. Shake your scanning hand downward a few times before moving on to scan the next food.
3.Scan the piece of organic fruit, noting the depth and strength of its energy. Then sweep away and feel some of its energy. The light vibration should be stronger. Shake your scanning hand a few times.
4.Perform the same routine on the piece of bread. Depending on the brand and its freshness, it should have a feeling close to that of the original piece of fruit. Shake your hand after each piece of food.
5.Scan the fish, the red meat, and the pork. The energy of each will feel progressively heavier and denser, maybe sticky.
6.Spray your hands with alcohol.
7.Now pick one or two items that felt particularly clean and strong to you and put them in the microwave for about 45 seconds. Take them out and scan them. You will feel a substantial drop in energy.
You may wish to try scanning different types of food and different brands, and scanning food before and after it is prepared by different methods.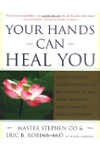 Continue Learning about Therapeutic Touch