Flexibility is essential in preventing all kinds of injuries but tendonitis in particular. Prevention of tendonitis requires stretching the muscle on a regular basis, which allows less pulling and traction on the tendon's attachment to the bone. When tendonitis does occur, it is important to treat it immediately and prevent it from reaching the more severe stage called tendonosis. Even if you have not reached for your toes in years, it is not too late to start stretching and regaining your flexibility.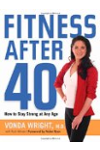 More About this Book
Fitness After 40: How to Stay Strong at Any Age
It's one of the undeniable facts of life. After we reach a certain age, our bodies change. No matter how fit we may have been at 20, we're very different people after 40. But growing older doesn't...
Continue Learning about Tendons