Tooth discoloration can occur from the outside in, or from the inside out. Wine, coffee, tea, sodas, and other foods can stain the outside of your teeth (the enamel). So can smoking. Teeth can also be discolored from the inside out. In children, too much fluoride or early use of the antibiotic tetracycline (before age 8) can discolor teeth. Using tetracycline during pregnancy can also stain the child's teeth when they come in. Trauma to teeth that causes chipping can also lead to discoloration. A tooth that has undergone a root canal may become discolored. Finally, simply getting older can cause your teeth to appear more yellow. As we age, tooth enamel gets thinner, allowing the yellowish dentin inside the tooth to show through. External stains can be whitened by the dentist or with home products. Internal stains are more challenging. Sometimes the best approach is to have your dentist cover the discolored teeth with a thin veneer.

Causes of Teeth discoloration
Extrinsic (external) staining caused by:
Food and beverages such as red wine, coffee, cherries, grape or blueberry juice, soy sauce, curry
Use of tobacco
Dental materials, such as amalgams contains silver can cause a gray-black staining to develop.
Intrinsic (internal) staining, which occurs on the inside of the tooth, develops while the tooth is forming. It is caused by certain antibiotics, such as tetracycline, some minerals, such as fluoride, fever or any health issue associated with tooth formation.
Other factors: teeth staining can occur due to a number of natural causes such as hereditary factors, individual metabolism, age, etc.
Teeth can discolor on the inside and out! Discoloration from the inside of the tooth may be caused by an injury or an infection in the nerve of a tooth. For example, if a tooth was a part of a traumatic incident in the past, then the tooth may start to yellow or discolor beneath the surface -- over time. This can result by something called internal resorption. However, the most common cause of tooth discoloration is the result of external staining caused by common foods and drinks that stain teeth including coffee, tea, red wine, or even turmeric.
Kids can develop discolored teeth if they take tetracycline (or if their mothers take it while they're pregnant), so choose different antibiotics to prevent speckled teeth. White spots on teeth are usually a sign of enamel breakdown, decalcification, and too much fluoride.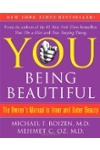 Continue Learning about Teeth Basics