Your kidneys keep your body's salt levels in balance. They also play a role in regulating blood pressure by keeping your fluid levels in balance. As they're cleaning your blood, your kidneys sense when you need to make more red blood cells and send a message to your bone marrow via a hormone called erythropoietin (EPO for short). Remember that vitamin D you need to absorb calcium? The kidneys are where it gets activated and ready for use.

In addition to regulating salt levels in your blood, your kidneys also help to regulate your blood sugar. In general, your body wants to hold on to as much glucose as possible, as it's too valuable as an energy source to flush away. So normally the kidneys absorb glucose back into your blood after it passes through the nephrons.
However, if your kidney is overwhelmed with too much sugar, it will dump the excess into your urine, making it smell sweet.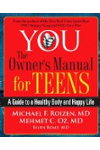 Continue Learning about Teen Perspective: Understanding Anatomy