Most people encountering major losses grieve but don't become seriously depressed and don't need psychological or psychiatric treatment. However, researchers have found that about 25 percent of those experiencing a major loss will, in fact, go on to develop situational depression and certainly may need and benefit from mental health treatment. In these cases, the depression must be resolved before people can begin to come to terms with their painful loss adequately. Treatment with medication may also be indicated when grief turns into depression.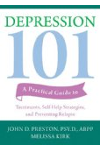 This kind of depression occurs when a situation like an illness, accident, life event, work or school issue presses on a person, causing depressive symptoms. If the situation changes, the depression eases, making it "transient." Transient depression generally has a short duration, with treatment approaches looking to reduce reactive depressive symptoms and build resiliency. More About this Book
Living with Depression: Why Biology and Biography Matter along the Path to Hope and Healing
One out of four Americans will experience mental illness in their lifetime; major depressive disorder is the leading cause of disability in the United States for ages 15 through 44. However, only a fraction of those suffering will seek treatment; 25 percent will seek treatment for symptoms. Stigma claims the other 75 percent, wedging depressed individuals into a life of silent suffering.In <span style="font-style:italic;">Living with Depression, Serani outlines the various forms of depression, describes the different treatments, and outlines methods for living with depression and getting the help you or a loved one needs. Tips on how to choose a good therapist, negotiate the labyrinth of healthcare, and minimize stigma are addressed, as is learning how to use biology and biography as tools of empowerment. Listings of national and global resources make this a ready resource for everything you need to know about depression.
This is diagnosed after more than two months after someone has suffered a significant life change, such as a death in the family. Symptoms usually improve over time after the major event. If you feel it's more you can handle, seek help.
A death, natural disaster or other traumatic event can send anyone—adult, teen, child—into such a spiral of despair, the brain cannot work its way out again. Studies show that 40 percent of those experiencing post-traumatic stress also exhibit signs of chronic depression. A traumatic event can be purely individual. One soldier can come home from Iraq and jump back into the work force. More, however, are haunted by images of death and destruction. With medication and therapy, they recover.
Continue Learning about Teen Perspective: Stress and Depression