Managing stress can be as easy as going back to the basics in life.

#1 – Nutrition: The body needs fuel to survive. Our fuel comes in the form of nutrition. Bad fuel leads to poor performance. Research shows that when teens are stressed, they often opt for ease and convenience which often translates to unhealthy foods. Develop good dietary habits and you will have the fuel you need to manage stress effectively.

#2 – Sleep: Sleep is a great way to counteract stress. Sleep helps calm the nerves by relaxing and clearing the mind. So if you want to unwind, be sure to get enough ZZZ time.

#3 – Exercise: Exercise has so many great benefits. It improves your mood, gives you more energy, and helps decrease stress. With benefits like those, it's a mystery why so many people report that they don't do it regularly. Whether it's a trip to the gym or a walk in the park, take time to work off stress by doing something good for your body.

So in summary, if you want to reduce stress go back to the basics in life: nutrition, sleep and exercise.
The real key to stress is learning how to manage it. Here are some of the big picture things you can do to get a grip when you're feeling overwhelmed:

• sleep well

• eat a balanced, nutritious diet

• exercise daily

• take a few minutes each day to treat yourself to some kind of relaxation activity, be it breathing deeply or taking a walk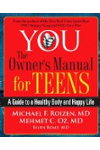 Teens can manage stress by exercising, getting out in nature, walking, skateboarding -- any activities like this would help. They all increase blood flow and oxygen to the brain and that helps us think better.
Continue Learning about Teen Perspective: Stress and Depression