There are other ways to boost your mood and cope with unhappy feelings without food. For starters, get out of the environment where the temptation is available. Exercise, especially exercise that requires you to focus your mind (such as yoga), not only relaxes the body, but also signals the brain to release endorphins, another one of our "happy" chemicals. The raised level of endorphins alleviates stress and tells your body that you don't have a care in the world, so there is no reason to be so uptight. There are various workouts you can try, including conventional cardio, yoga, Pilates, and relaxing breathing exercises. You can't help but feel calm and energized after any thorough, aerobic workout. Of course, this exercise high will wear off in a few hours. But needing to do a repeat workout (as long as you don't overwork yourself) is a much healthier option than doing a repeat kitchen raid.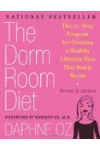 A little Dorm Room Shui will give you that boost and a little Chi at the same time.
There are several fast and easy feng shui fixes you can do to a dorm, but if there were only ONE thing that any student should do, what would that be? Oh, yes, keeping the clutter cleared was right up there. Implausible as that may be considering the age range we're dealing with. And making sure the bed if OFF the ground so Chi can circulate underneath is quite critical too. In fact, keeping a separation between studying and the bed is pretty important too. The bed should be for sleeping ONLY (any/all of my college buddies reading this now, keep your memories to yourself or I'll, well I'll…….okay, well, I have a wand and I'm not afraid to use it!) So, yes, the bed for sleeping ONLY and another area for study. There's a subtle psychological cure there that will result in better grades in the long run. As will a globe in FAME or books or even a pagoda in KNOWLEDGE. But the runner up in this tech tainted world of the most important dorm room Shui is putting a healthy green plant in the room to absorb the EMFs and the negative emotions that could conceivably clog up that same space. But…the single, most important piece of DORM ROOM SHUI that I can offer is there…..and, believe it or not it applies to students of all walks of life, of every age and color and creed. And it goes like this:
THE FIRST THING YOU SEE IN THE MORNING AND THE LAST THING YOU SEE AT NIGHT HAS AN IMPERCEPTIBLE BUT ENORMOUS INFLUENCE AND IMPACT ON EVERY SINGLE ASPECT OF YOUR LIFE. Period.
Make sure that your college coed has something uplifting and brain boosting greeting them at the top of each day and sending them off to sweet dreams at night.
Continue Learning about Teen Perspective: Stress and Depression