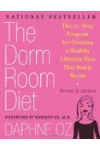 Below you will find a list of grab-and-go foods that you can either prepare quickly or just grab out of the box, which won't leave you in a sugar slump an hour later. These are some of the foods I was able to find easily at my college, either at the campus food store or at a nearby convenience store. Buying them regularly didn't break the bank. The ones that needed preparation involved merely adding hot water or using the small communal kitchen downstairs, and the perishable items were easy to store.
Complex Carbs:
Cooked Cereals (look for at least 3 grams of fiber per serving). These should be eaten plain or with sparing amounts of butter, milk, and/or sugar.
Instant or regular oatmeal, unflavored, unsweetened
Farina cereal, cooked
Oat bran, cooked
Cold Cereals. All cereals should be eaten dry or with 1 percent or skim milk. Try to avoid sweetened cereals or putting sugar on cereal.
Whole grain granola bars, with less than 150 calories and minimal added sugar
Whole grain cereals
All-Bran
All-Bran with extra fiber
All-Bran Buds
Chex, Multi-Bran or Wheat (and gluten-free varieties)
Fortified oat flakes
40% Bran Flakes
Flax & Fiber
Fruitful Bran
Granola, low fat, low sugar
Grape-Nuts
Mueslix
100% Bran
Raisin Bran (because raisins can be sugarcoated, a healthier choice would be to just add your own raisins to plain bran flakes)
Shredded Wheat, unfrosted
Special K
Total
Multigrain bagel, plain or with low-fat/low-sugar toppings
Oat-bran bagel, plain or with low-fat/low-sugar toppings
Crackers, whole wheat, low fat
Melba toast
Breads: Cracked wheat, High-fiber, Multigrain, Whole grain, any kind, Rye, light, or dark
Apples
Applesauce, unsweetened
Apricots
Bananas
Blackberries
Blueberries
Cherries
Cranberries
Figs
Grapefruit
Grapes
Kiwi
Lemon
Lime
Mangoes
Melon
Nectarines
Oranges
Papaya
Peaches
Pears
Pineapple
Plums
Raspberries
Strawberries
Tangelo
Tangerines
Watermelon
Remember, you should eat all fruit raw, whenever possible. Dried fruit has an abundance of condensed sugar, and stewed or packaged fruits often have had sugar added. If you can't store or don't like raw fruit, go for the dehydrated kind (for example, JustFruit bars) or have a little dried fruit with no sugar added.