One of the easiest and also healthy lunches is a roll up. Purchase a whole grain flour tortilla and stuff it with plenty of veggies such as lettuce and tomatoes, some lean protein such as grilled chicken, turkey or roast beef, and tad of mayo or mustard, roll it up and enjoy! Laura Trice, MD, author of The Wholesome Junk Food Cookbook: More than 100 Healthy Recipes for Everyday Snacking, offered a lunch recipe that will keep you full and hydrated:
Crunchy Avocado Salad
1 ripe avocado
1/2 cup sliced cucumber, Persian or English
1/2 cup cherry tomatoes, grape tomatoes, or chopped tomatoes
Juice from 1/2 lime
Sea salt to taste
Calories: 418
Total fat: 35.8 g
Fiber: 17.4 g
Protein: 6 g
This is basically an uber-chunky guacamole. Chop avocado into 3/4-inch cubes and place in a bowl. Add cucumber and tomatoes and lime. Stir gently and salt to taste.
The avocado is calorie-dense, but these calories come from the great omega fats that avocados are so rich in. Also, cucumbers have tons of water and fiber, which will help to keep you full and hydrated. Especially in the summer months, when all these fruits and veggies are readily available, this is a nutrient-dense and satisfyingly crunchy new spin on salad. Serve with kale chips or toasted, whole wheat pita chips.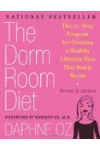 Continue Learning about Teen Perspective: Nutrition and Healthy Eating