A college campus is completely different from the home you lived in for the first eighteen years of your life. You eat on your own or with friends; you have autonomy over what goes into your mouth; you eat at irregular times and often based on convenience and budget, rather than on hunger or nutrition. Food helps you socialize, kill boredom, and cope with stress, not to mention replace the comforts of home -- the home cooking as well as the support of family. Eating may or may not have filled all these roles while you were still at home. How you and your family viewed food while you were growing up will have an enormous impact on how well you adjust to eating in your new college setting.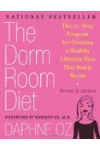 Many college students skip breakfast in order to sleep in. This may end up being a very unhealthy habit during college.
Research suggests that adolescents who skip breakfast are at an increased risk of becoming overweight or obese. If you skip this important meal, odds are you will be hungry later on in the morning and be more likely to find yourself impulsively snacking on high calorie foods from the vending machine or college convenience store.
Rise and dine on a bowl of high fiber, whole grain cereal doused with skim milk. Add some protein, such as string cheese or a handful of nuts to your meal to help appease your hunger throughout the morning.
Continue Learning about Teen Perspective: Nutrition and Healthy Eating