Fast food burger chains are potential minefields for the healthy eater. Only recently are healthy options being introduced to these venues, and even these are a far cry from ideal. If a road trip with friends finds you on the drive-thru line or making a pit stop, you should be prepared. This is an especially important time to remember that cutting portions -- small fries instead of large, junior-size burger rather than the Daddy -- can make a huge difference. There are also those newly added healthy menu options, such as salads, whole grain premium sandwiches, and grilled chicken.
Healthy fast food options include:
Protein, preferably lean (chicken breast, hamburger, fish sandwich, not fried)
Small portions of anything
Salads (fast food salads are improving, and at some you can even choose low-fat Ranch or Italian, rather than fatty French)
Yogurt (instead of ice cream, apple pies, or other sweets)
Sandwiches on whole grain breads (without tons of mayo -- go for low-fat if you can)
Fruit salad
Nuts
Water or sports drinks before soda
Here are some tips for eating healthy at fast food restaurants:
Opt for those low-fat dressings, and use sparingly as they probably have a lot of sugar and salt to compensate for less fat.
Whenever you can, go for grilled. "Extra crispy" just means more bread and more oil.
Try to fit in vegetables and protein whenever possible (like a veggie bean burrito).
Always ask for low-fat or nonfat dairy products.
Eat raw fruits and veggies whenever available.
If you must eat at a fast food restaurant, go for a salad. If you can't get a salad (or don't want to), get the leanest meat you can find (skinless poultry or fish, preferably) or a veggie burger. If you don't want either of those, go for the hamburger, but nix the cheese and special sauce.
And, finally, if you absolutely must have these accoutrements, go for the smallest size available. Keep in mind, that one 4-ounce burger (no bun, mayo, or special sauce included) is 360 calories, the same as the calorie count in four veggie burgers.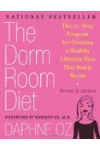 There should be some healthy items on the college menu. You could look for vegetarian options like lentil or bean soup, veggie burger as well as a tofu stir-fry. They may also have a chicken or pork stir-fry with plenty of vegetable choices. Just watch while they are making it to see if they are using loads of butter or oil. Try to look for items with whole grains such as breads, pitas, tortilla shells, rice and pasta. If they have a baked potato, see if you can get some cooked broccoli plus some low-fat cheese and couple it with some lean meat or unbreaded fish. Avoid white breads, items loaded with cheese, cream sauces, sweetened cereals, and fried foods. Limit your intake of sweets. Look out for muffins and pastries because they tend to be loaded with fat and calories. Many colleges have yogurt machines so check to see if it is low-fat. Vegetable salads are fine-just be careful of how much dressing you are putting on them and avoid cheese (unless low-fat), salads with mayo and bacon bits. There should be plenty of fresh fruit option so try to have some with each meal.
Continue Learning about Teen Perspective: Nutrition and Healthy Eating