In order to avoid an unhealthy eating disaster while watching TV you can:
Drink a glass of water before you have anything to eat; a lot of times, we confuse thirst with hunger.
Chew gum.
Always try to have a piece of fruit rather than processed snacks, especially late at night. If plain fruit doesn't cut it, try some peanut butter or low-fat cheese with the fruit. You can also dip your fruit in chocolate and refrigerate it, so if you need a little chocolate, you can grab an already dipped piece of fruit in a hurry.
Keep a bag of semisweet chocolate chips around, so if you want a sweet fix you can take a small handful.
Try rice cakes or soy crisps before turning to more processed snacks; they come in a variety of flavors and the soy crisps even give you some protein without much fat.
If you really have to have something carbohydrate-based and processed, try separating snacks into bags of single-serving portions ahead of time, so you know how much you've eaten and won't be tempted to eat whatever amount "the claw" retrieves during its five dives into the box. Wheat Thins or Triscuits are good choices here, because they're baked (not fried) and made with whole grain.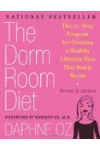 Continue Learning about Teen Perspective: Nutrition and Healthy Eating