Two very common pulls we see in young athletes are:
Hamstring pull: the hamstring--a group of muscles that run down the back of the thigh, supporting the hip joint and attaching to the lower leg--can be injured by overuse, especially if you're overstriding during a run. Reinjury rates are 80 percent because scarring of injured areas creates more tension, so stretching after a warm-up is especially important. Stretch after you use this muscle by putting your foot on a chair and leaning forward while bending at the hip until you feel tension in the hamstring. Hold for a minute and switch legs. Don't bounce, just gently stretch.
Groin pull: this partial tear of the adductor muscle group between the pubic bone and the femur (your inner thigh bone) is especially common when the muscle is cold and you've overexerted yourself. The best prevention is to stretch and strengthen the area. Lie on your back and spread your legs in the butterfly position, extending your knees outward so that you feel the stretch. Put a ball between your legs and squeeze to strengthen.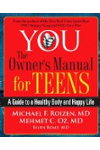 Continue Learning about Teen Perspective: Exercise and Physical Fitness