If you do experience joint pain or related strains and sprains in the surrounding soft tissue, it's best to follow the RICE protocol:
Rest: Stay off the injured area.
Ice: Ice the area of injury, using an ice pack or a bag of frozen peas on the injured area for 20 minutes four times a day to keep down the inflammation and swelling. Protect your skin with a thin washcloth or towel.
Compression: Wrap the joint in an elastic bandage to help support the weakened tissues. Fit it snugly, but not so tightly that it causes pain or cuts off the blood supply.
Elevation: When you're at home, keep the injured part elevated--higher than the level of the heart--to decrease blood flow to the area and prevent swelling.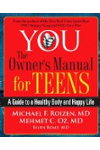 Continue Learning about Teen Perspective: Exercise and Physical Fitness