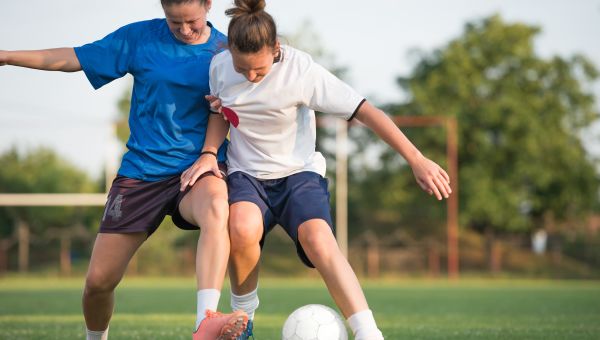 Teenage angst is big at the box office: Millions have been made off a sulky James Dean in East of Eden, a grumpy Judd Nelson in The Breakfast Club and the intriguing Ellar Coltraine in Boyhood. But while you may pay to see adolescents acting out on the big screen, back home you're probably hoping for children with fewer emotional upsets. Well, one way to help your kids feel good about themselves and their life is to encourage them to participate in school sports teams. Joining a team helps protect teens from stress and depression, which afflict an estimated 23-40% of kids ages 12-17.
As a team member, kids form strong friendships and they learn to think not just about their own needs, but the needs of their teammates. Equally important, they're physically active. Regular exercise dispels stress, improves self-image and protects kids (and adults) from chronic illnesses, like type 2 diabetes, that are linked to depression.
Fortunately, a record number of children are benefiting: In 2013, 3.2 million girls and 4.5 million boys were participating in school sports -- including cheerleading, swimming and track and field.
But what if your teenager won't go out for school sports? Suggest other team activities: chess club, science club or debate team, for example. Your child will still benefit from being on a team. Just make sure he or she also makes a commitment to get physically active. Bowling? Archery? Jogging? There's something for everyone! That way your child will stay happy and healthy.
Medically reviewed in February 2020.