Some people may develop an allergic reaction to certain pigments used in tattoos. This is true for the chemicals in the ink used in temporary henna tattoos as well as in permanent tattoos. No matter how sanitary and safe a tattoo artist may be, an individual's skin may react to certain chemicals or metallic pigments in the ink. If you develop symptoms of an allergic reaction after you get a tattoo, it's best to see a doctor.
As fathers and as physicians, we have noted the fad of tattooing with skeptical eyes. If your children have allergies, you have a new argument against it—if you are given a say in the matter. A study in the New England Journal of Medicine documented cases of intense itching of a tattooed area that doesn't respond to topical and intralesional steroids or laser therapy, and necessitates skin excision and grafts. It observed that "hypersensitivity to red pigments is most common, especially those containing mercuric sulfide (cinnabar)."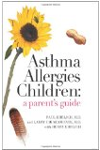 More About this Book
Asthma Allergies Children: A Parent's Guide
Asthma and allergies are at epidemic proportions. It doesn't have to be that way. Two experienced pediatric allergists tell everything a conscientious parent needs to know about these conditions,...
Continue Learning about Tattoos