Our tastes are the result of our bodies adapting to the foods that we eat on a regular basis. Before the advent of refrigeration and global commerce, we could only eat foods that were grown locally.

Notice how people in different regions have different tastes. Are they born with different taste preferences than we are? No, their tastes have simply adapted to the foods in their region. What does the phrase "healthy foods taste bad" really mean? By itself, the phrase means that people have adapted their taste preferences to prefer the unhealthy food they generally eat. However, what if they could change their preferences so that they would not only enjoy, but also prefer the taste of healthy foods? This can happen as you put this program to the test. In the beginning, as you force yourself to eat these healthy foods, you will begin to enjoy them more.

As you sample new recipes, and slowly decrease your intake of processed and other unhealthy foods, you will notice that your taste preferences will change. It's one of the many amazing changes that you will see by making this high nutrient diet an integral part of your lifestyle.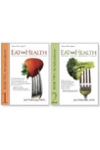 Continue Learning about Taste & The Nervous System