Many people damage their hair while primping and styling, often without even knowing it. Here are the major offenders:

• Excessive combing: Over time, excessive combing and brushing, especially of wet hair, can cause the delicate cuticle scales to lift and, in extreme cases, peel away. Forget those one hundred strokes a night. The idea was to move oil from the scalp into the hair to give it shine. But if you comb aggressively when hair is wet, it will be damaged.

• The wrong tools: Using the wrong combs and brushes, especially on fragile, chemically treated hair, can remove the cuticle layer in large portions, creating porous and dull hair strands. A wide-toothed comb is best.

• Back-combing and teasing: Back-combing and teasing are extremely harmful, since they tug in the opposite direction of the cuticle scales, which can eventually rip them off, leaving the inner area exposed.

• Heated appliances: When too hot or used on wet hair, heated appliances can actually cause water under the hair to boil, creating permanent welts that weaken and dull the hair shaft and set the stage for breakage. Never use ceramic appliances on wet hair. If possible, do not blow-dry your hair.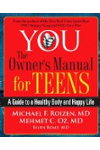 Continue Learning about Teen Perspective: Taking Care of Your Body