Here's a rundown on your options:
In-office whitening: Fastest and strongest effects, up to ten shades lighter, but costs $500 to $1,200.
Brush-ons: Best over-the-counter method. You can see results four shades lighter. These brighten the back teeth better than the strips do.
Strips: You can get four to six shades lighter, but only on the front six teeth.
Tray and gels (in-office or OTC): It's an older technology and has potential for gum irritation, so it's best to do with a doc. At home, the temptation is to abuse it, which can lead to tooth sensitivity.
Whitening toothpastes: An everyday experience, these toothpastes remove stains from teeth by polishing or chemical removal.
The ideal combo: If you can afford it, use an in-office whitening, then follow up with brush-ons and toothpastes at home.
Studies have shown that repetitive whitening (using safe, low concentrations of the active ingredients) gives longer-lasting results. Just be sure not to repeat more than once every two weeks, or you'll thin the enamel. Home whitening strips don't appear to harm enamel.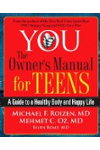 Continue Learning about Teen Perspective: Taking Care of Your Body